Accessing ProClient Account Settings
To access your ProClient account settings, click on the arrow beside your username on the upper right corner of the screen. A dropdown selection menu will appear. Click on "My Profile."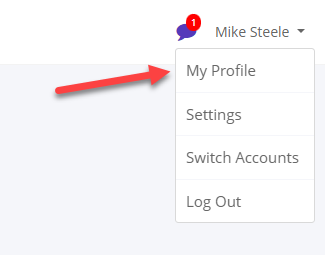 You will then be able to access your Profile and Settings options. These are divided into several sections marked by tabs: General, Security, Integrations, and Calendar. Here are more details on each section:
General
Here you can edit your personal information settings. The fields include:
First name
Last name
Phone - Mobile
Phone - Work
Email
Role
Start on page
Number of items displayed in a tabular data
Appointment default view
Default timezone
Email opt out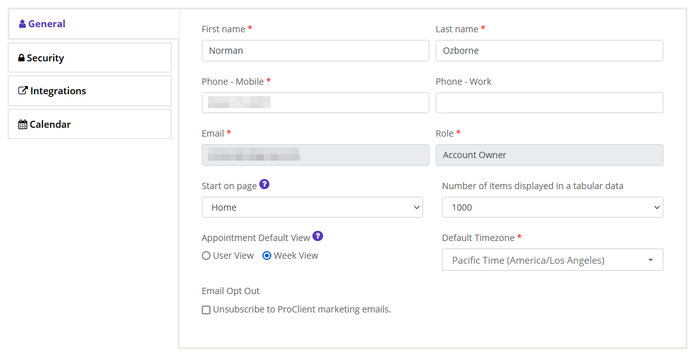 "Start on page" lets you select the page that greets you after logging in to ProClient. The options are Home and Calendar.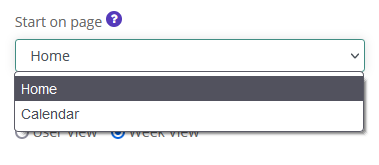 "Number of items displayed in a tabular data" sets the number of entries shown on each page. The options are 100, 500, 1000, and Show All. If you choose to Show All, the tabular data will be presented on a single page⁠—no pagination.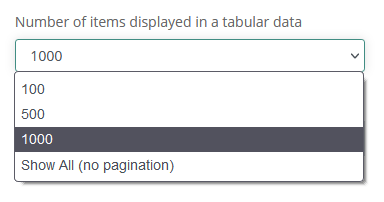 "Appointment default view" lets you select the default Calendar view that is shown after logging in. The options are User View and Week View.

"Default timezone" sets the timezone for your ProClient Calendar.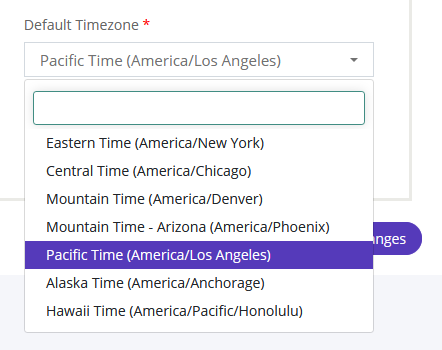 "Email opt-out" lets you unsubscribe from ProClient marketing emails.
Security
Here you can adjust various security settings.

"Two-factor authentication" can be enabled or disabled. If enabled, you will receive a code via email and SMS every time you log in to ProClient. You will need to enter the code upon login to gain access.

"Password" lets you change your ProClient account password.
"Active sessions" allows you to sign out of all sessions. When you access ProClient from different devices and browsers, you create a session instance on each platform. That means you can be logged in from different platforms at the same time, and logging out of one might not log you out of the others. Clicking on "Sign out of all sessions" will ensure that you get logged out of ProClient on all devices and browsers.

Integrations
Here you can set up email and calendar app integrations.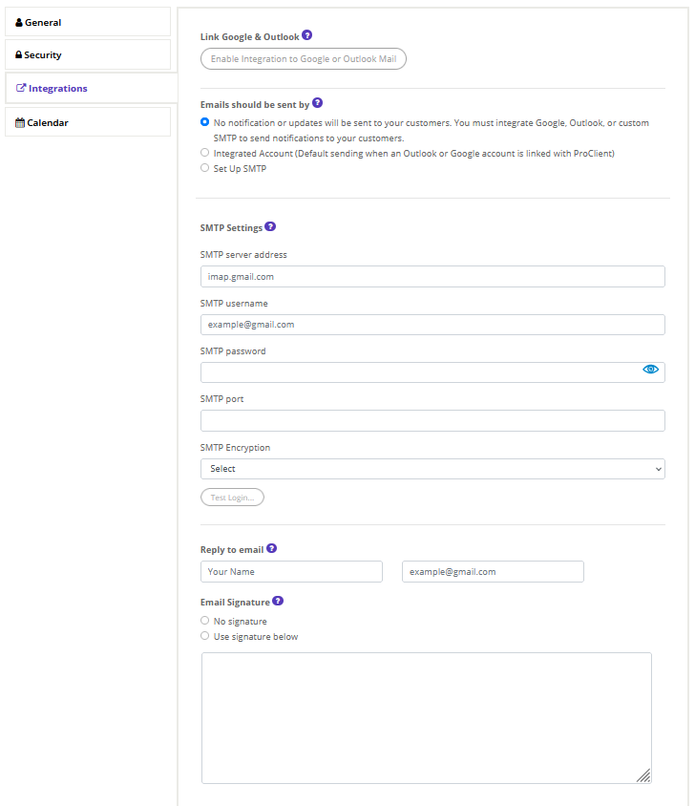 "Link Google & Outlook" lets you establish integration between your personal calendar and the ProClient calendar, allowing you to sync appointments on both apps. This only works for Google and Outlook calendars. To learn more, please see: How to Sync Email and Calendar
"Emails should be sent by" controls email notifications to clients. When a Google or Outlook account is linked to ProClient, then by default, setting an appointment will generate a notification email that is sent using your linked account.

You can change this to an SMTP link. Then the notification email will be sent over the SMTP server you set up. You can also turn off notifications to customers.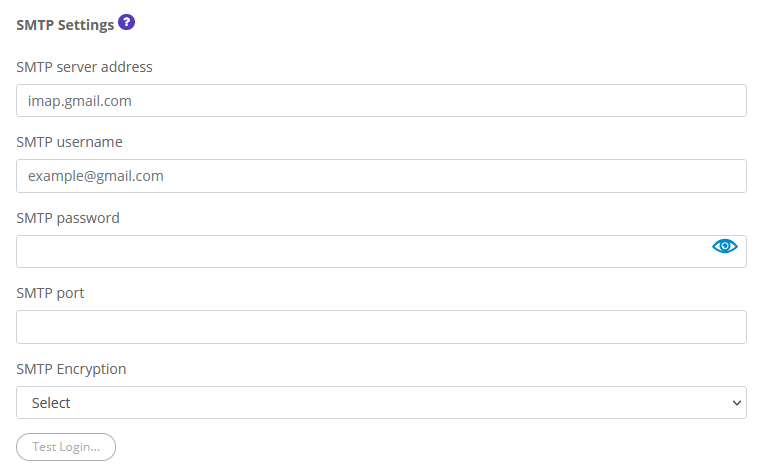 "Reply to email" establishes the email address to which customers can send reply messages. To set this up, enter your name followed by an existing email address.

"Email signature" lets you create a default signature that will appear on your email messages. Enter the signature in the space provided. You can also choose to have no signature.
Calendar
Here you can configure various ProClient Calendar settings.
"Reminder on external calendar" is used to toggle on/off the reminder settings. When activated, ProClient will use the reminder function on your linked Google or Outlook account to remind you of appointments scheduled with ProClient.
"Show name of the user on external calendar" is another toggle. When activated, your linked Google or Outlook account will show the name of the ProClient user account that scheduled the appointment item.
"Show name of the client on the external calendar" does something similar. When activated, your linked Google or Outlook account will show the name of the customer for whom the appointment has been scheduled.
"Show appointment notes on external calendar" can be useful when you add notes to an appointment entry upon creation. When activated, your linked Google or Outlook account will show the notes you added to the appointment item.
"Default schedule blockout dates and time" configures ProClient Calendar blockout times. Users and clients will not be able to schedule appointments with you at the times set as blocked out.