Main Interface
ProClient provides you with a spare yet informative dashboard that places all major functions at your fingertips. It is easy to comprehend and navigate.
The main interface is divided into several widgets and quick access buttons. The widgets occupy the center. The quick access buttons are directly underneath, at the bottom of the page.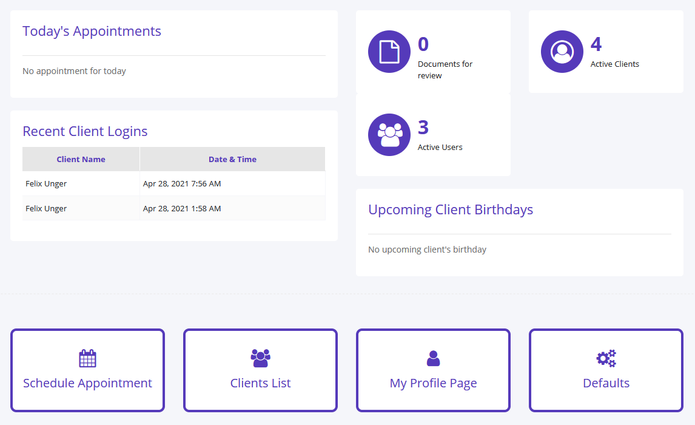 Main Widgets
Today's Appointments - Lists all appointments scheduled for the current date. If there are none, it simply shows, "No appointment for today."
Recent Client Logins - Shows the most recent Client Portal logins. Includes the client name and the date and time of the login.

Documents For Review - Shows the number of uploaded documents still waiting to be reviewed. Clicking on this will send you to the Documents For Review page.
Client Messages - Shows the number of text messages waiting to be read. Clicking on this will send you to the SMS messaging center.

Active Clients - Shows the number of active clients with profiles in your ProClient CRM system. Clicking on this will send you to the CRM center.
Upcoming Client Birthdays - Lists any clients who have upcoming birthdays, so you can send them greetings and boost customer relations.

Quick Access Buttons
Schedule Appointment - Takes you to the ProClient Calendar.
Clients List - Takes you to the Customer Relationship Management (CRM) center.
My Profile Page - Takes you to your Profile and Settings page, where you can edit your profile information, adjust security and integration settings, and change your calendar preferences.

Defaults - Use this to access the configuration settings for your ProClient application.