Accessing Document Center
You can navigate to a client's Document Center from the Dashboard. On the header menu, click on "For Review" under Docs:

This takes you to a page listing Documents For Review. The list is sorted by client. Find the client's name and click on it. This will take you to the client's Document Center.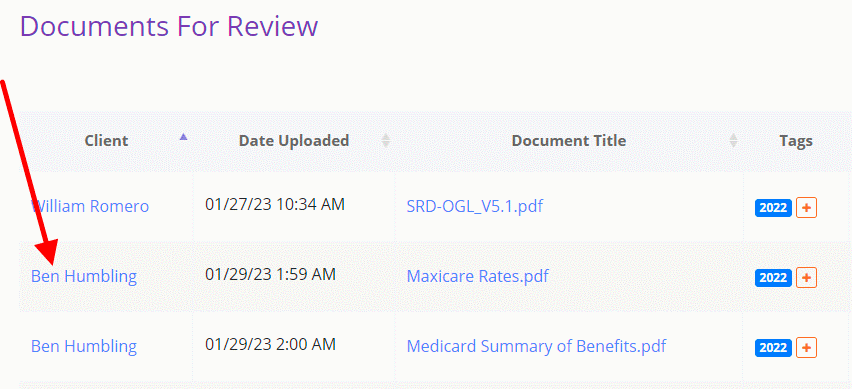 Alternatively, you can navigate to a client's Document Center by going to All Clients and then clicking on the client's name in the list: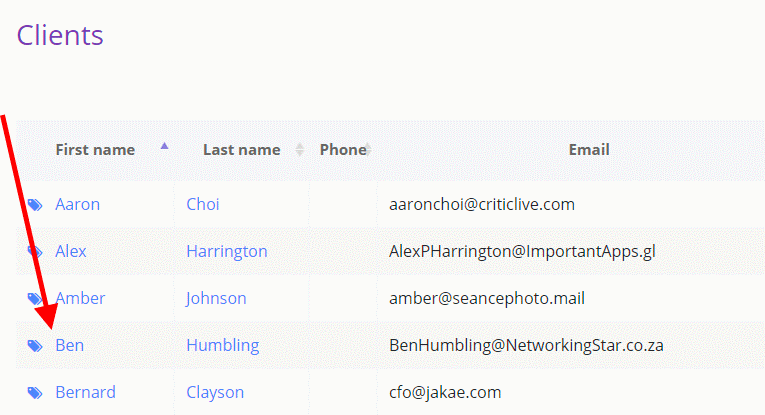 Document Center Functions
You will see a list of the documents available on the client account. Each listing shows the Title, Document, Share Status, and Action function.

Clicking on the Action function will open an action menu with these options: Tags, Email, Download, Rename Title, Share/Unshare with Client, Upload New Version, and Delete.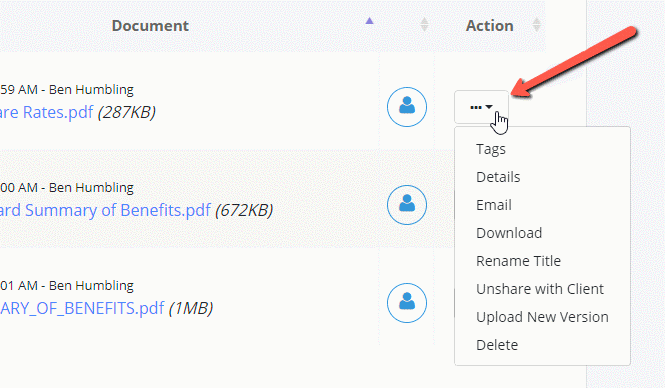 Composing Email
Select the "Email" option. This opens a "Compose Email" pop-window. You can compose and send an email message to the client.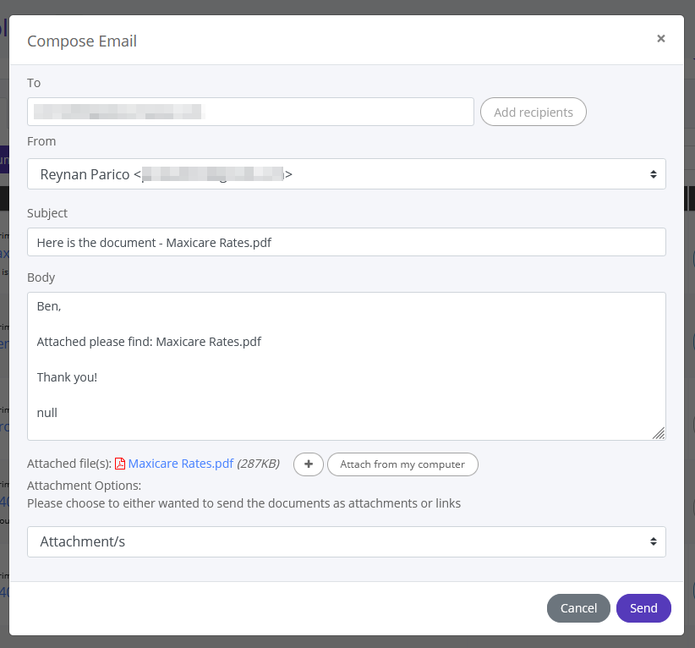 Email Attachment
The selected document will be automatically attached to the email. You can also attach additional files that are available on the client account. And you can attach a document from your computer or device.

If you need to send the attachment as a website link in the message rather than as a file attachment, you can change this selection under Attachment Options:

Set it to "Link/s" and the client will receive a link to the file in the email message. The file will not be attached to the email message you send.
Adding Recipients
The "Compose Email" window is automatically addressed to the client. You can click on the "Add recipients" button to also send the message to other email addresses. You can only add recipients who have existing profiles in your ProClient system.

Editing Subject and Sender
You can directly edit the Subject of the email in the Compose Email form.
The Sender field cannot be edited. This field is always filled with the default email address associated with your account. If you need to change it, you must go to: Settings > Users
Click on your name to open your User Profile. You can edit your name and email address. Confirm by clicking on "Save Changes." The changes will then be reflected in the Compose Email firm.
Sending the Email
Once everything is in order, click on the "Send" button to send the email message to the intended recipient. Note that you cannot unsend an email message after you have clicked "Send."
Emailing Multiple Documents as Attachments
You can attach multiple documents to one email from the Document Center.
Click on the checkbox beside each document on the list that you want to attach to the email.



Click on the icon to the right of the "Add Documents" button. The available actions include Tag, Email, Download, and Delete.



Click on "Email" to open the "Compose Email" pop-window. The selected documents will be attached to the email message.